One of the first major technological advances in tennis, IDS (acquired by SMT in 2012), introduces the first electronic scoreboard at the Lipton International Players at Laver's International Tennis Resort in Delray Beach. The Lipton relocated to Miami in 1987 and is now known as the Miami Open.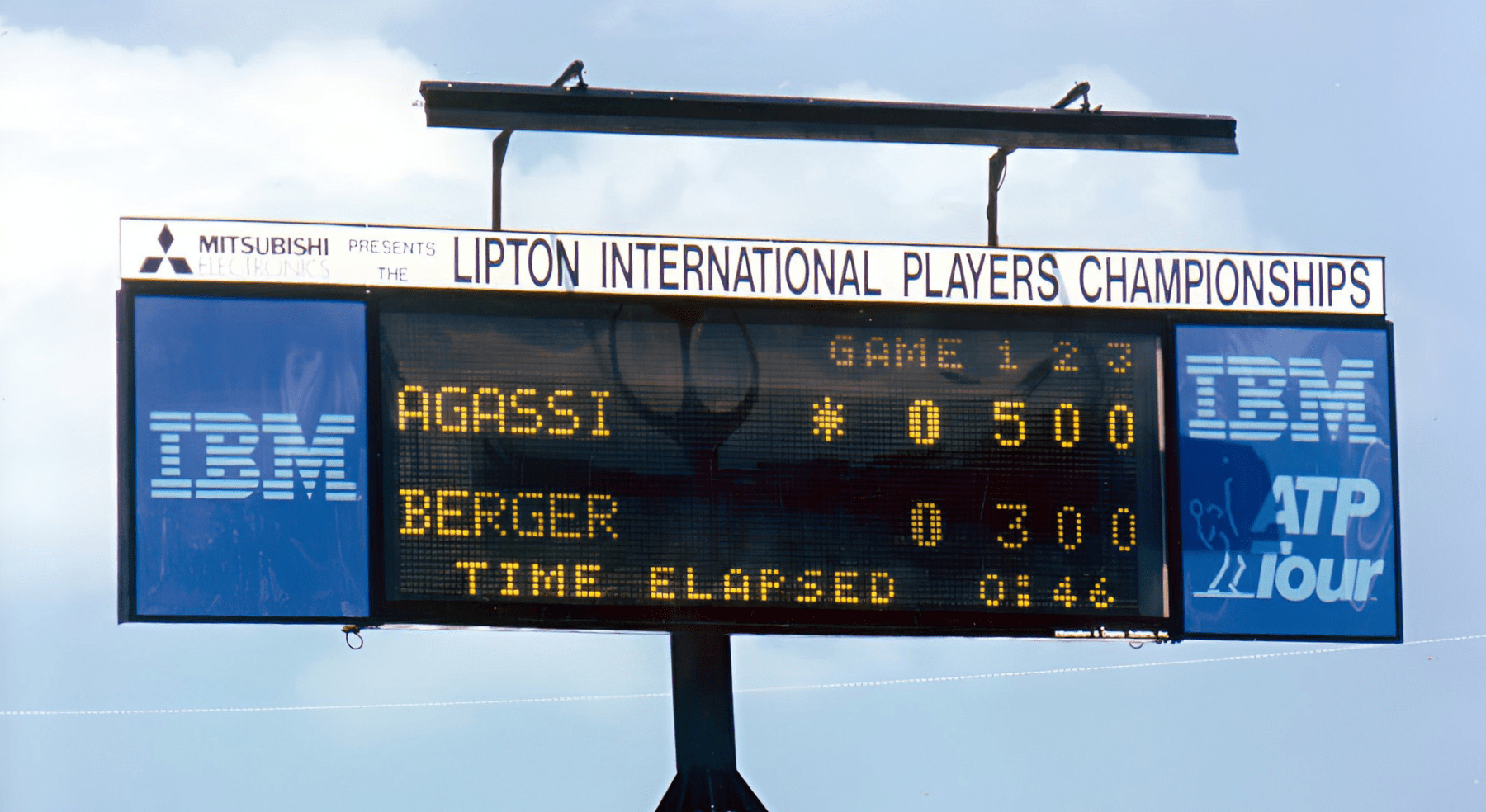 SMT founder and CEO Gerard J. Hall develops the first real-time scoring and wireless data delivery system for the PGA Tour, replacing walkie-talkie communication. Using personal computers, he interfaced real-time scoring with TV production workflows to provide NBC Sports with the technology for its PGA Tour broadcasts from 1988 to 1991.
MEASURING TENNIS' FASTEST SERVES
SMT's Serve Speed system debuts at the Key Biscayne tournament. The Serve Speed clock has since been used for every Grand Slam tennis tournament and has become ubiquitous at every major tennis tournament.
SMT LAUNCHES PARTNERSHIP WITH ESPN
In an exclusive four-year agreement, SMT partners with ESPN to provide interfaced TV graphics, including services for NASCAR/IndyCar, NFL, NHL, MLB, NCAA football and NCAA basketball.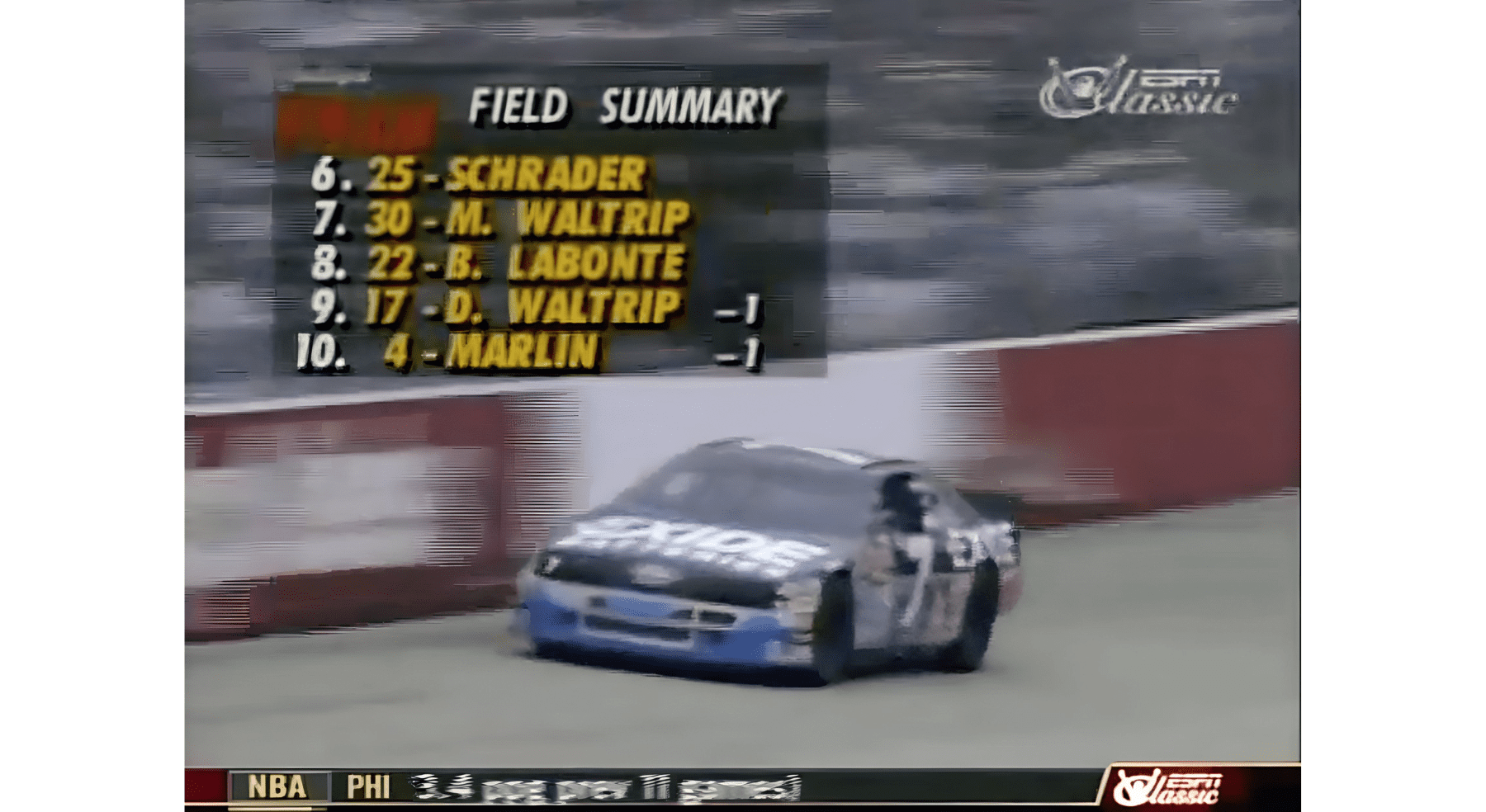 BIRTH OF LIVE, CONSTANT TV GRAPHICS
For NASCAR broadcasts, ESPN debuts SMT's Lap Counter, the first live-updating, constant, on-air graphic in sports television history.
SMT introduces a comprehensive scoring and management toolset for the chair umpire that includes point, fault, and ace entry with controls for code violation management, countdown clock operation, localized challenge remaining management, and messaging to centralized control for any courtside needs.
SMT BECOMES NBA'S OFFICIAL SCORING PROVIDER
SMT launches GameStats, the NBA's official scoring solution. SMT continually updates this system to satisfy the ever-changing scoring and statistical data collection requirements of the NBA, WNBA, NBA D-League, NBA Celebrity Game, NBA Summer League, FIBA and NCAA rule sets.
FULL FORCE INTO EXTREME SPORTS
From the inaugural X Games in 1995 until 2011, SMT designed, developed and deployed the official timing and scoring systems and on-air graphics for every competition aired on ESPN.
ADVENT OF AUTOMATIC GRAPHIC INSERTION
SMT pioneers the Autograph platform to display constant, on-air, clock-and-score graphics on NFL football telecasts on the FOX network. Known as the "Fox Box" or "scorebug," the graphic set standing operating procedure for all future sports broadcasts.
FoxTrax, aka "Glow Puck," debuts at the NHL All-Star Game and is used until the end of the 1997-1998 season. The system used modified pucks with infrared emitters that were read by computer systems to generate a glowing puck and trails to help viewers follow the action. This technology was developed by Sportvision, acquired by SMT in 2016.
A REAL GAME CHANGER: THE YELLOW LINE
SMT's Emmy-winning 1st & Ten system, aka the "yellow first-down line," premiers on Sept. 27, 1998, on ESPN's broadcast of the Baltimore Ravens v. Cincinnati Bengals. The 1st & Ten virtual insertion technology relies on reading data from a fixed camera position and matching that data (pan, tilt, and zoom) with a virtual map of the field of play.
THE STATS HUB OF MARCH MADNESS
SMT signs on to provide HoopStat, a real-time, game-driven statistical interface to each game of the NCAA Division I Men's Basketball Championship. SMT's systems synchronize clock, score and statistics from each game and feeds the data in real-time to statistical graphics displayed instantly on-screen. SMT production crews are stationed at every venue, spotting courtside and inputting baskets scored, steals, assists, rebounds and fouls to update the box score used by commentators.
EMMY-WINNING K-ZONE VISUALIZES STRIKE ZONE
Debuting on ESPN, K-Zone generated and inserted a virtual strike zone graphic in replay for MLB broadcasts. K-Zone won the 2021 Sports Emmy Award for Technical Achievement. By 2011, K-Zone had evolved to a live graphic that ESPN used for every pitch in every game for every pitch in conjunction with a 3D K-Zone system that provided a multidimensional look on replays.
CREATING DIGITAL RACE RECORDS
Beginning with its 2001 debut for NASCAR on FOX, the RACEf/x tracking system revolutionized motorsports broadcasting with GPS satellites that gather telemetry and positioning data, creating a real-time digital record of a NASCAR race.
SMT pioneers ShotLink, the PGA Tour's real-time scoring system that tracks every shot hit in every tournament, about 1.5 million per season. SMT trains volunteers to operate hand-held rangefinder lasers to spot tee shots, take measurements and record the grid coordinates.
AWARD-WINNING FAN ENGAGEMENT TECH
SMT's patented virtual insertion technology, SMART®, is introduced for NBC Sports' Notre Dame football broadcasts. In 2006, the technology won an Emmy award for its use in NBC's Sunday Night Football broadcasts. The system was used to render first down and distance lines on a football field and putt paths on a golf course.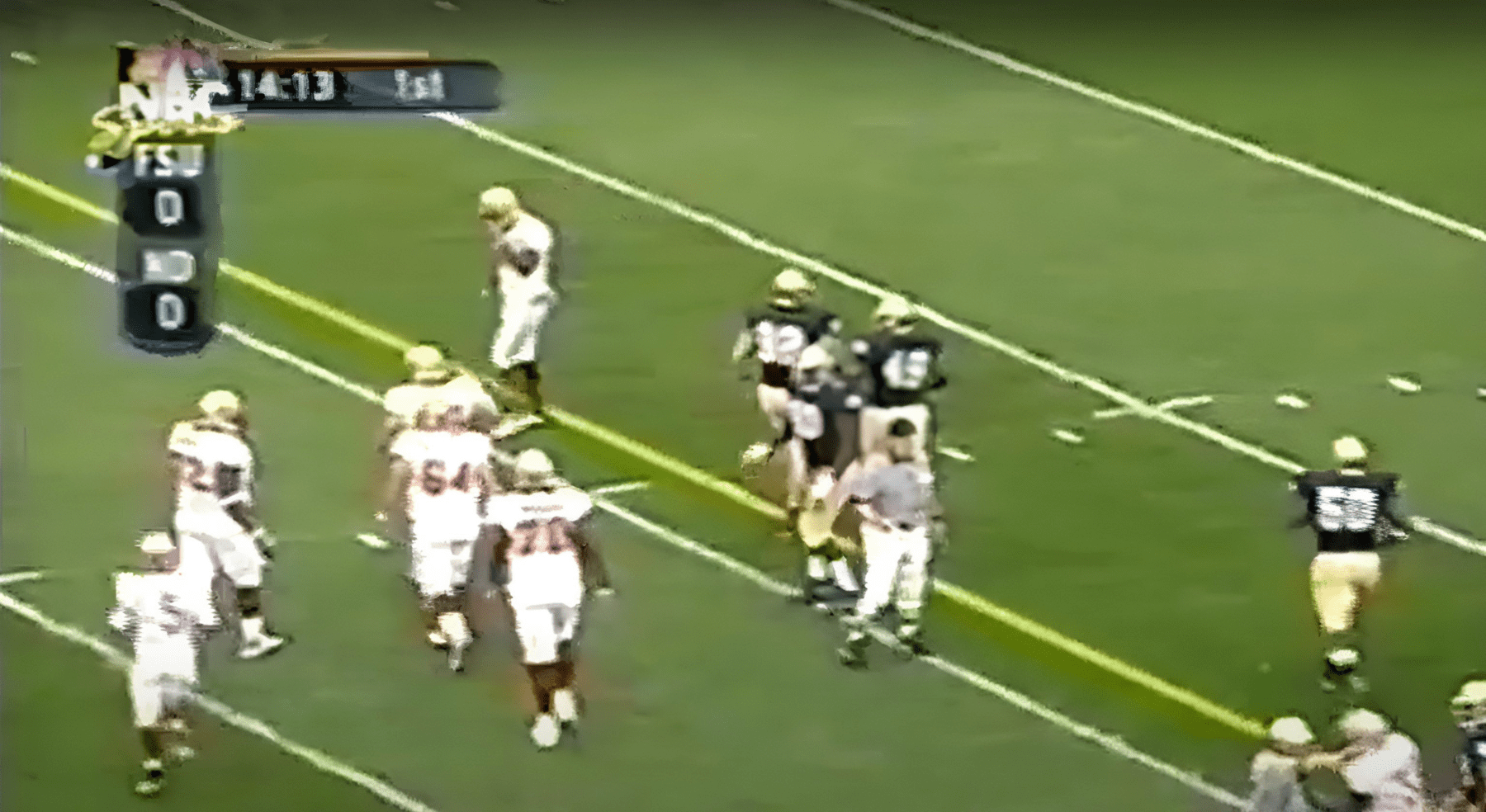 SPAWNING A SABERMETRICS REVOLUTION
PITCHf/x, a full pitch path tracking system, was used in MLB broadcasts until 2014. Installed in every MLB stadium, the system used cameras to measure velocity, position and break of pitches in real time and to show a visual representation of the pitch and whether it entered the strike zone. A database system stored all PITCHf/x data.
NHL HITS (Hockey Information & Tracking System), the official NHL real-time scoring system, is launched. The system was upgraded for the 2019/2020 season with NHL HITS 2.0.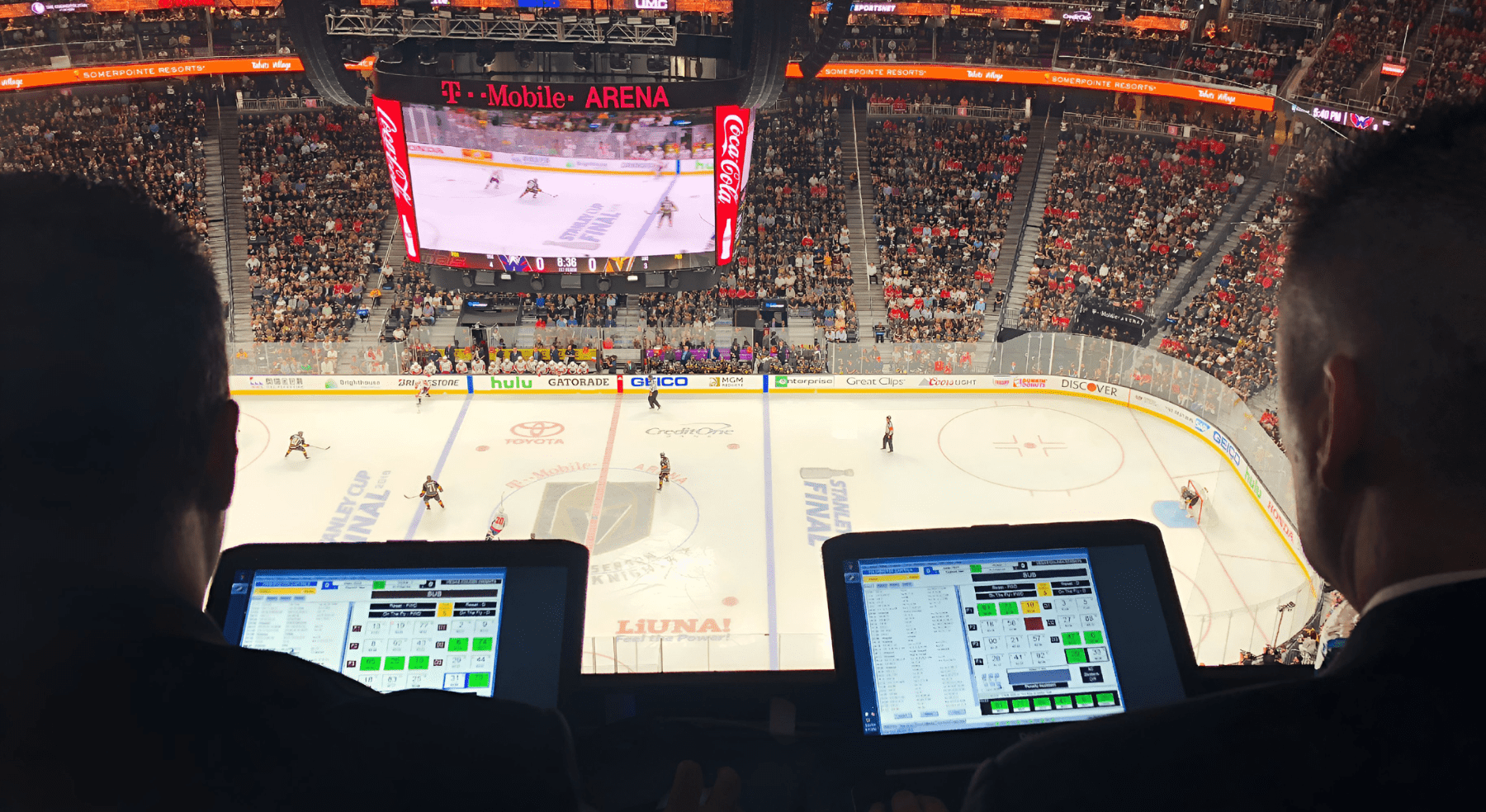 ISO Track, the first real-time optical tracking technology not requiring a fixed camera, debuts on the Versus network during an IndyCar Series race.
PAVING THE WAY FOR EVERY-DAY AUGMENTED REALITY
Camera Tracker technology debuts on NBC Sunday Night Football, inserting a virtual first-down line from the moving cable cam with geospatial precision. With the image stabilization provided by this image-based technology, the door was opened for applications such as inserting virtual ads, AR graphics and other virtual content seamlessly on a field.
SMT developed the first official timing and scoring services for CrossFit competitions and, in 2012, was named its official design firm. In addition to our comprehensive broadcast package, SMT now supplies in-stadium video board production and data integration, interactive talent touchscreens for the studio, web feeds, on-site direction, Commentator Information Systems and CCTV.
VISUALIZING NFL NEXT GEN STATS
NFL broadcasts begin using SMT's Next Gen Tele system that converts real-time, in-game player- and ball-tracking data into storytelling graphics. The enhanced player-tracking telestrator combined NFL's Next Gen Stats data and SMT's proprietary play-marking system to instantly render four virtual player routes on SkyCam video for a "first-replay series, every replay" opportunity for producers.
HARNESSING A FLOW OF DATA
Launched the OASIS Platform, the culmination of decades of experience developing next-level technology for the live sports industry. OASIS (Organization of Asynchronous Sports Information Subsystems) is a powerful organizing philosophy and extraordinary data management system that gives clients centralized control over all of their data.
PREMIER TENNIS TECHNOLOGY
The SMT scoring system, TennisX, has been employed at tournaments ranging from the smallest junior events to the world's largest and most prestigious tournaments and is the official scoring solution for the U.S. Open and Australian Open. TennisX manages every aspect of a tournament, including draw creation, match scheduling, data capture and distribution, scoring and statistics, as well as prize money and world ranking calculation.
CAMERAS REPLACE LASERS TO TRACK GOLF BALLS
SMT develops Greenside Tracking, aka ShotLink Plus, a video-based model that uses fixed cameras to track the speed, break and distance of shots from tee to green, replacing the laser system.
SMT began its partnership with the Professional Fighters League, providing scoring and powering the first-ever SmartCage that utilizes biometric sensors and proprietary technology to measure and deliver real-time fighter biometric and positional data, which has grown to include kick and strike speed, strike count, fighter tracker, fighter performance rating, and the GOTO Betting Board.
NASCAR Broadcast Analytics with its GhostCar feature uses SMT RACEf/x® tracking data to fuel live, virtual visualizations producers use to compare drivers' lines, strategies and telemetry data.
LEVELING THE FIELD FOR NASCAR DRIVERS
NASCAR Team Analytics was rolled out for 2018 Speedweeks, providing a unique analysis tool that allowed drivers, team engineers, and broadcasters to leverage a flow of data to compare performances against any opponent.
NHL PUCK AND PLAYER TRACKING
Two decades in the making, SMT unveiled real-time, puck- and player-tracking technology built on its OASIS platform during the 2019 NHL All-Star Game. Based on infrared ​technology, sensors placed in player uniforms and inside the puck track with never-before-seen precision. The NHL dubs this technology NHL EDGE.
DIGITAL FANS COME TO LIFE
In response to restricted in-person fan attendance, SMT launched Virtual Fans, Ads and Brands (VFAB), a virtual insertion system for broadcasts that displays in-program enhancements such as digital fans, ads, and other content.
SMT expanded our remote production studios, dubbed ROOSTER, partly in response to the pandemic. ROOSTER replicates the production truck workflow as SMT technicians remotely operate various systems such as the UI, video monitoring, communications, graphics and data integration.
NHL OPTICS, driven by the OASIS Platform, debuts, providing broadcasters with a user-friendly graphics integration system to leverage NHL EDGE puck and player tracking by creating pointers, discs and trails that reveal game-winning strategies.
NHL puck and player tracking is available in arenas, giving fans data intelligence via L-Bars and pointers on center-hung video boards, in hospitality suites and in the concourses. With graphics that integrate puck and player tracking technology, fans can now see data such as players' top speeds, lineup changes, TOI, team comparisons, hardest shots and much more, providing fans with the same real-time content shown on broadcasts.
RE-ENGINEERED BRIGHT STAR PUCKS
SMT introduces upgraded sensor-embedded 'Bright Star' puck for 2022-2023 NHL season. With LEDs closer to the puck's top and bottom layers, the IR light employs a broader reach to the in-venue optical cameras that power NHL Edge, the puck and player tracking system.
It all started with a challenge, a visionary graduate student and his audacious ideas. In 1988, while the PGA Tour relied on walkie-talkies for scorekeeping, Gerard J. Hall pondered: What if I could create a wireless scoring system?
With that, it was game on. Gerard pioneered the first real-time leaderboard graphic for PGA Tour broadcasts on NBC. Following that success, Gerard introduced the first live, on-air graphic scoreboards, famously known as 'score bugs,' a milestone in sports television. Next up, he spearheaded the launch of SMT's virtual insertion technology, then the OASIS data and video management platform, and player- and object-tracking software, propelling SMT to its current status as an industry leader in sports technology.
Gerard is a Harvard University graduate, a St. Andrew's scholar at the University of Edinburgh, and formerly a graduate fellow in the Department of Computer Science at the University of Central Florida.
NFL Documentary Mines SMT Broadcast Innovations
CEO Gerard J. Hall shares his unique insights into the history of classic innovations that have become broadcast staples, from the first score bug to the iconic yellow first down line. SMT takes pride in being recognized by NFL Media as sports tech pioneers in its documentary, "NFL EXPLAINED: Broadcast Innovations."
"With our unmatched track record and reputation for excellence, SMT embraces opportunities to drive innovation for our clients, regardless of the scale of the production. As pioneers in the sports technology industry, we know how to leverage and employ technology in crafting the next generation of distinctive tools and visual presentations, elevating analysis, storytelling, and the overall viewer experience." — Gerard J. Hall
Our accomplishments speak for themselves